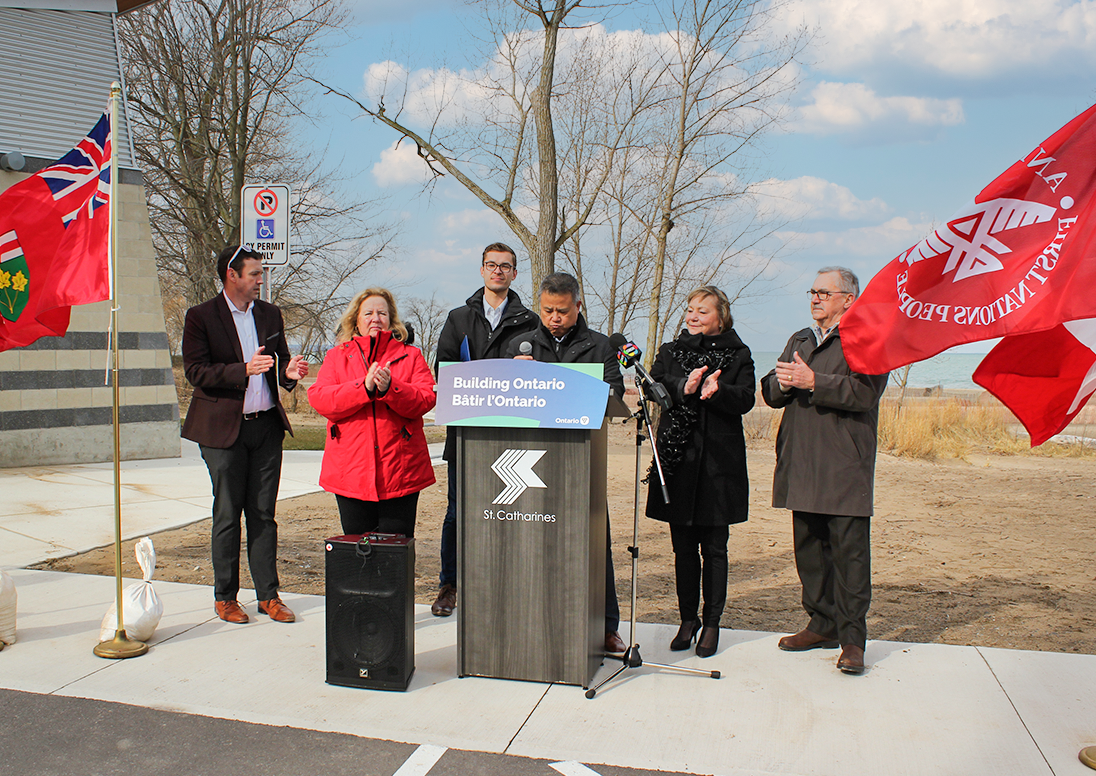 The City of St. Catharines Sunset Beach renovation project has been awarded a $4.4 million grant from the Province of Ontario following an application by City staff to the Investing in Canada Infrastructure Program (ICIP).
On Friday, March 24, the Provincial government joined the City of St. Catharines for a funding announcement at an event at Sunset Beach.
"This grant is going to go a long way toward achieving the community vision set out for Sunset Beach," said Eric Lamothe, manager of business planning and strategic services for the City. "A big thank you to the Province for approving the application which will enable us to expedite the project. We are looking forward to completing these improvements which will contribute to a more enjoyable experience for beachgoing residents."
The project is set to take place in two parts. Phase one starts this fall and will include improvements to the parking lot, reconstruction of the existing boat ramp and shoreline protection efforts. Phase two will include improvements to existing park amenities such as trails and picnic tables and a complete replacement of the playground structure.
"Sunset Beach has been a favourite lakefront destination for families in St. Catharines for generations," said Sam Oosterhoff, MPP for Niagara West. "Today's announcement of provincial funding to support infrastructure improvements of the parking lot, boat ramp and existing park amenities, as well as shoreline protection efforts, will ensure the City beach is able to serve local residents for years to come."
The project is part of the Sunset Beach Community Vision which was approved by Council in July 2019. In November of that year, staff applied to the Community, Culture and Recreation stream of the ICIP grant. The funding ended up being granted under the Strategic Priorities Infrastructure Fund – Sport and Community Renewal sub-stream (SPIF-SCR). The provincial grant is set to cover just over 73 per cent of the total cost with the City contributing 27 per cent of the total eligible project costs, or $1.6 million.
"This investment from the province allows the City of St. Catharines to continue building the vision we have for Sunset Beach," said Mayor Mat Siscoe. "Improvements to the overall accessibility of the site mean that more members of the community will be able to enjoy one of the gems in our City's north end. Kudos to city staff, ward councillors and residents for creating a vision that I know our community will be proud of."
The City's contributions to the project costs are included in the annual capital budget with $800,000 approved in the 2023 budget for phase one, and a 2024 future capital forecast of $800,000 for phase two.
Renovations are expected to begin on Oct. 1, 2023.