The City is creating a master plan for Fairview Park to help guide decision-making about park improvements and investment. To help us with the project we've hired a team of consultants made up of urban design and cultural heritage specialists from SGL Planning & Design Inc. and ASI Heritage.
Once complete, the Fairview Park master plan will be presented to Council for approval, will reflect the community's vision for the park, and will include a park strategy and conceptual design layout.
Background
The project study area is located north of the QEW, bounded by Scott Street to the north and Geneva Street to the east.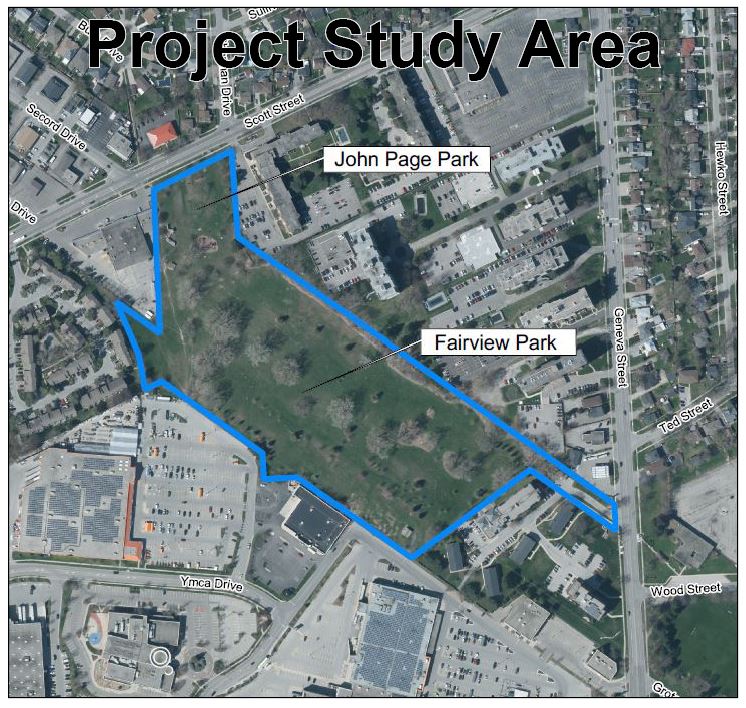 The 6.7-acre parcel encompasses both the former Fairview Golf & Mini Putt lands (commonly referred to as Fairview Park) and neighbouring John Page Park. A section of the historic Third Welland Canal is buried beneath the park, with remnants of a swing bridge visible along the western boundary.
Since operation of Fairview Golf & Mini Putt ceased in 2015, the park has been used primarily for passive recreation. In addition to playground equipment and its expansive open spaces, the park now includes a labyrinth and hard-surfaced connections between Scott Street, Geneva Street, and Fairview Mall.
Help plan your park!
Your vision for Fairview Park is important to us! There will be several opportunities to ask questions and provide input throughout the Community Vision process.
Head over to EngageSTC and have your say - your input will be crucial to helping shape the vision for the park. The page will be updated as the project progresses, including ongoing engagement opportunities.
Help Plan Your Park! Phase two of consultation
Your vision is important to us! The City's consultants have compiled two concept park layout alternatives following extensive input received through the first stage of public consultation. Both concepts can be found in the documents section of this project page. The concepts will be further refined through the second stage of public consultation and, ultimately, one master plan will be presented to Council.
Concept One
Concept Two
The concept park layout alternatives will be presented to the public at an open house, where members of the community will be invited to ask questions and provide feedback. The details of the open house are as follows:
Fairview Park Community Vision Open House
Wednesday, Oct. 4, 2023
Doors open at 6 p.m.
Presentation at 6:30 p.m.
Kiwanis Aquatics Centre
Lawrence & Irene Locke Rooms
425 Carlton Street, St. Catharines

To register, please send your name, email address and phone number to CRCSadminstrativeservices@stcatharines.ca.