Black History Month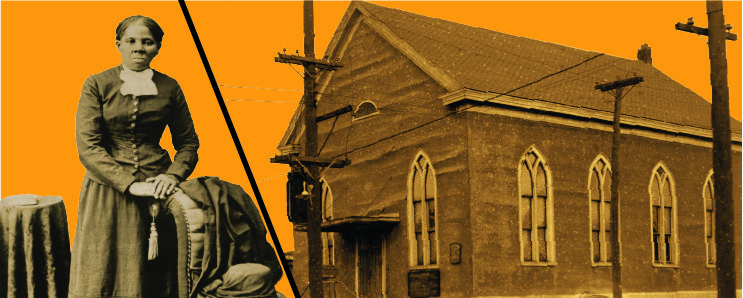 February is Black History Month. From early settlement and into today, stories of the Black community are integral to understanding St. Catharines' past. All month long, the St. Catharines Museum is offering programs, blogs, videos, activities, and other interpretive experiences to celebrate Black History Month in St. Catharines. Check out our schedule of events:
Virtual Museum Lecture Series
As part of Black History Month, the Winter 2022 season of Virtual Museum Lecture Series will kick off with two lectures exploring Black History in St. Catharines. Register by donation online at ActiveSTC (Select "Activities", search "Museum" and select "Virtual Museum Lecture Series"), or by emailing museum@stcatharines.ca or calling 905-984-8880.
The Daily Grind: Records of Freedom Seekers in St. Catharines
On December 26, 1858, Jacob Blockson wrote a short message from his new home in St. Catharines to his wife still living in the United States. With five lines he describes the important parts of his new life in Canada. The importance of the daily experience that he was free to build was not lost on Jacob or his fellow Freedom Seekers. This lecture will examine the daily life of Freedom Seekers as they settled into their new home in St. Catharines. Presented by Public Programmer Abbey Stansfield.
Upper Canada's Black Defenders Take on Niagara's 'Wild West'
Sometimes known as the Black Defenders of Upper Canada, the Coloured Corps militia unit famously served in the War of 1812 and was called out to the Rebellion of 1837. Less remembered, however, is how the Corps took on many tense, violent, and deadly altercations and riots with particular skill in what can only be described as Niagara's 'Wild West' between the 1830s and 1851. Join this lecture for some remarkable stories presented by Visitor Services Coordinator Adrian Petry.
Virtual Black History Program: On the Liberty Line
Thurs, Feb. 10 at 11 a.m.
Sat, Feb. 26 at 2 p.m.
Explore Early Black History in St. Catharines through the eyes of Freedom Seekers and members of the Black community during the era of the Underground Railroad. Designed for people of all ages, this virtual program incorporates videos, activities, as well as images and other materials from the Museum Collection.
Registration information to come.
Film Screening
Sat, Feb. 5 at 2 p.m.
Thurs, Feb. 17 at 7 p.m.
Join us for a special screening of the documentary film "Risking Everything: A Story of Niagara's Freedom Seekers". This in-person event is open to the public by donation. Limited seating is available.
Black History Month Blog Series
Our annual Black History Month Blog series returns the St. Catharines Museum Chat blog in February. This year, we'll examine what factored into Freedom Seekers' decision to call St. Catharines home during the Underground Railroad era. Over the course of the series, we'll explore why St. Catharines offered Black refugees, abolitionist activities in the community, education issues, and other aspects of daily life for Freedom Seekers.
Catch the series here, and be sure to subscribe to our blog to access new content as it is published.
Subscribe to our Museum Events calendar to keep up to date on all new and exciting upcoming events happening at the St. Catharines Museum and Welland Canals Centre! You can also follow us on Facebook, Twitter and Instagram, and view the museum blog for event news.