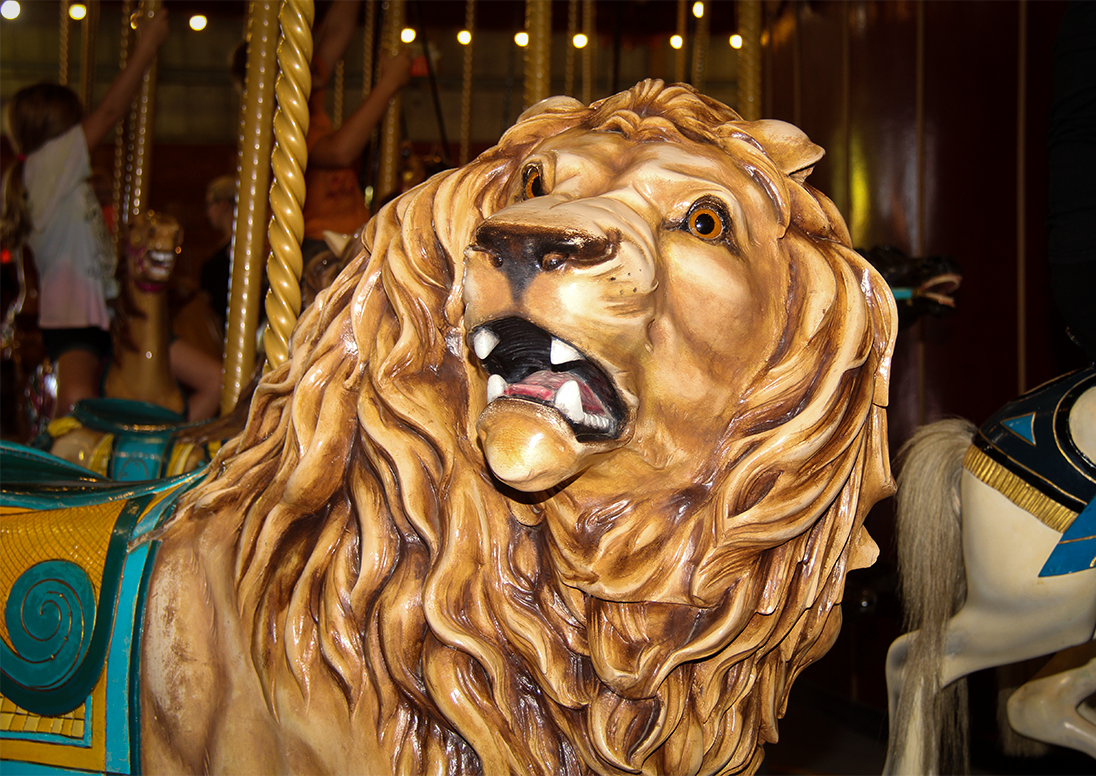 St. Catharines most treasured carousel animal, the Looff lion, is being prominently featured on a stamp released by Canada Post today.
The St. Catharines issue is joined by four other stamps in the series that display Canadian vintage carousels – The Bowness Carousel in Heritage Park Historical Village in Calgary, Alberta, the C.W. Parker Carousel No. 119 in Burnaby Village Museum in B.C., the Roseneath Carousel at Roseneath Fairgrounds in Ontario, and LeGalopant located in La Ronde in Montreal, Quebec. Each of the popular merry-go-rounds has one of their animals featured on their own individual stamp.
"We are very excited to have our beloved carousel showcased on a Canadian stamp," says Kathleen Powell, supervisor of historical services and curator of the St. Catharines Museum and Welland Canal Centre. "It's a proud moment for St. Catharines to have our carousel chosen to be featured alongside the other amazing historical works from across Canada."
The Lakeside Park Carousel is one of approximately 350 antique hand-carved carousels still operating in North America - only nine of which are in Canada.
The original Looff lion on the Lakeside Park Carousel is one of five existing Looff lions in North America and it is the only one that has its head turned to watch onlookers as it circles by. The second lion on the carousel was carved in 2004 by the Friends of the Carousel to replace the original lion that was stolen in the 1970s.
"The Friends of the Carousel couldn't be happier with our Looff Lion being chosen. What a proud moment for our city and everyone who has worked so hard to keep our carousel in lively working order," says Chair of the Friends of the Carousel Bonnie Cameron. "Our hours of careful restoration and care are well worth an honour such as this."
The Lakeside Carousel is a Charles I.D. Looff original, carved between 1898 and 1905 in Brooklyn, New York. The beautifully restored animals were carved by Looff's factory workers, including Marcus Charles Illions, who went on to become a famous carousel-maker in his own right. Relocated in 1921, the carousel came to St. Catharines from its earlier home at an amusement park in Scarborough, now part of the City of Toronto. It was purchased for the amusement park flourishing in Port Dalhousie, which had 58 attractions. In those days, more than a quarter million people annually crossed the lake in steamships to visit Port Dalhousie on weekends.
The carousel has 68 animals, including horses, lions, camels, goats and giraffes, plus four chariots. The accompanying music is played by an antique Frati band organ which uses a system of paper music rolls to serenade riders. Each animal was hand carved, and the horses still have real horsehair tails.
Today, the St. Catharines Lakeside Park Carousel still costs only a nickel to ride.