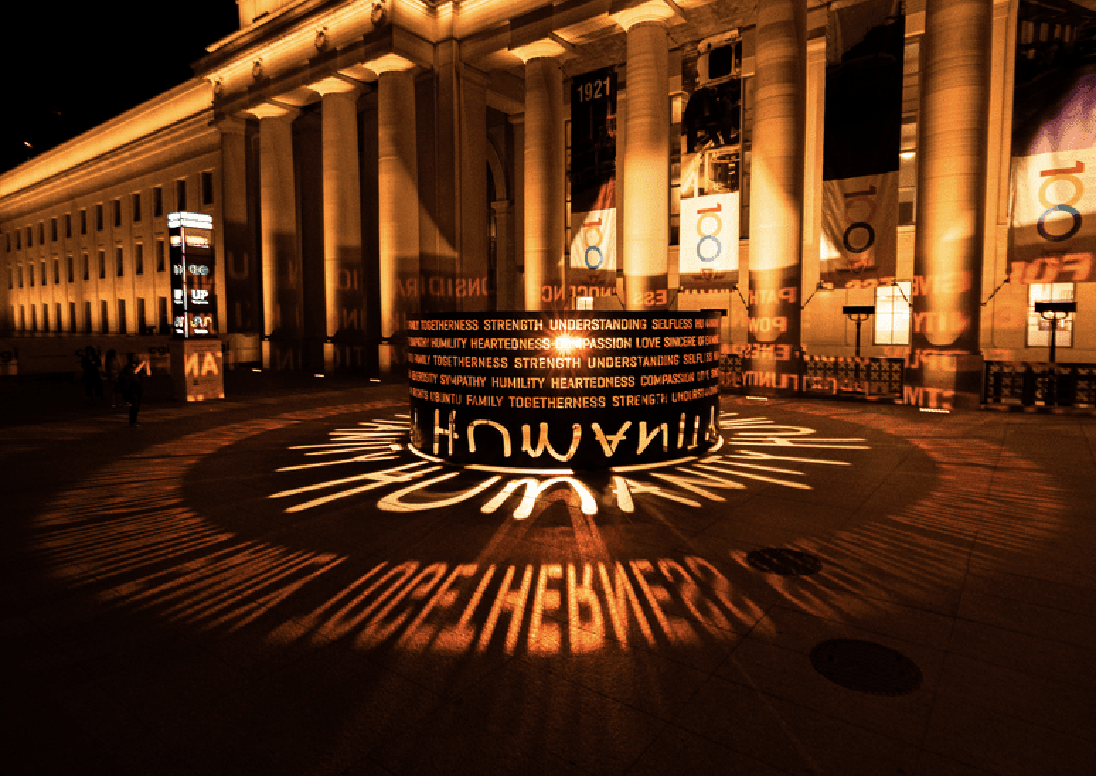 HUMANITY, a spectacular art installation commissioned by Masai Ujiri, vice-chairman and president of the Toronto Raptors and Giants of Africa co-founder, is coming to Montebello Park.
The Niagara Artists Centre (NAC), in partnership with ramm Design and with support from the City of St. Catharines, will present the steel sculpture that radiates light in the park as part of Let it Glow – A Celebration of Light. Residents are invited to an unveiling on the winter solstice, Dec. 21 at 5 p.m.
"We are so impressed with this piece and are looking forward to displaying it for residents and visitors to St. Catharines," says Mayor Mat Siscoe. "This high-profile installation will add an exciting extra element to our Let it Glow – A Celebration of Light program and allows us to extend this celebration into the winter months."
The piece has previously been displayed in Toronto and Ottawa and has found a new home for the season here in St. Catharines. The art is currently slated to remain in place through March 2023.
The 2.4-metre-tall circular sculpture is lit in the centre by a 12,000-watt bulb that shines through 35 words carved into its sides. Compassionate terms such as understanding, togetherness, love, and unity join the word HUMANITY repeated upside-down on the bottom. The light radiates through the words, illuminating the ground surrounding the piece.
"The HUMANITY art installation represents hope - hope for a day where we see each other as equals," says Masai Ujiri. "Inspired by Nelson Mandela's fight for human rights, it is a reminder to come together as global citizens to reject hatred and injustice."
The circular structure was originally created to reflect what humanity means to Ujiri, who was inspired by Nelson Mandela's fight for equality for all people. It was built by ramm Design Labs.
"ramm worked closely with the HUMANITY team and their Art Director Wilson Duong to create something that would stop people and make them think," says Ryan Mallette, founder of ramm Design. "We're proud of what we were able to help make happen and grateful to Masai and his team that we can share the message of Humanity in Niagara where we originally custom built the sculpture."
In partnership with ramm, NAC worked with the foundation to ensure a homecoming for the inspiring piece with a temporary installation in St. Catharines.
"There are so many creative people in Niagara and NAC works to connect them to the community. There are strong NAC/ramm ties, we work together often," says Stephen Remus, minister of energy, minds, and resources for NAC. "ramm Design is a great example of the innovators and creators working in Niagara who deserve more recognition. It's very cool that we are able to share this with Niagara, it's special to have it here."
Find out more about the piece at thatshumanity.org/installation.