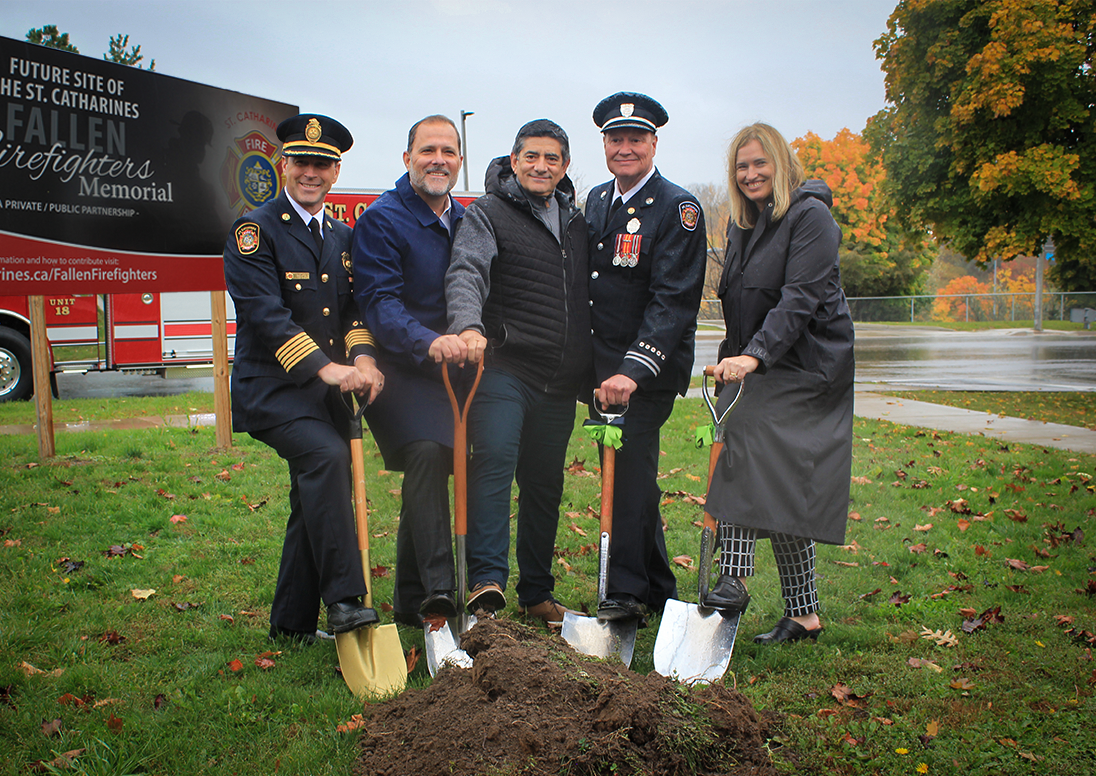 The City broke ground on the St. Catharines Fallen Firefighters Memorial this afternoon, Oct. 26.
The memorial is set to be completed in early 2023 and will honour full-time members of St. Catharines Fire Service who have fallen in the line of duty, and volunteer firefighters who fell in service prior to 1919 when the St. Catharines Professional Firefighters Association Local 485 was formed.
Mayor Walter Sendzik, City Councillors, City staff including members of fire services, along with representatives from the Niagara IceDogs, attended the ceremony at the memorial site located in a prominent downtown area, a City parkette bordered by Race, Carlisle, and McGuire streets.
"The Firefighters Memorial Task Force is excited to celebrate as we begin construction on this important monument that will honour St. Catharines fallen firefighters," said task force Chair Barry Katzman. "We've been working diligently for well over a year raising funds and we believe with the outpouring of support we continue to receive from the community that we will soon reach our goal."
The groundbreaking ceremony takes place just ahead of the upcoming boot drive this weekend. Look for members of the Niagara IceDogs and St. Catharines firefighters at various locations around the city this Saturday, Oct. 29. Major intersections for the Fill the Boot fundraising drive will be Glendale Avenue at the Pen Centre near Tremont Drive, and at Fourth Avenue where Louth Street and Martindale Road meet. A third location was added at the Canadian Tire at 274 Fourth Avenue. Residents who are out and about this weekend are encouraged to stop and drop a few dollars in the boot.
Another way people can support the project is to purchase an inscribed brick that will become part of the pathway leading to the memorial statue. Other memorial elements can be customized such as benches and trees, or businesses and individuals can secure a place on the donor wall. Individuals are also welcome to donate any amount they wish without purchasing a specific element.
Memorial elements can be purchased, and donations can be made online at stcatharines.ca/FirefightersMemorial.