The City of St. Catharines is planning to carry out road reconstruction and underground infrastructure improvements on Hampstead Place from Carlton Street to Manchester Avenue.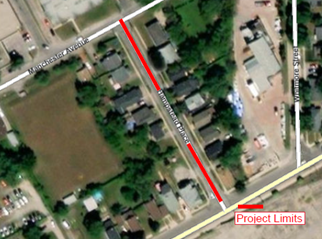 The project includes watermain and sanitary sewer replacement, installation of catch basins, and new road structure including new barrier curb and asphalt pavement combined with a new 1.5m wide sidewalk on the east side. Any disturbance to boulevards or driveways will be fully restored. Construction on this project is expected to begin early October 2022 with base asphalt being completed prior to Christmas 2022. Top asphalt works may be delayed to Spring 2023 pending construction timing and weather conditions.
Alfidome Construction Niagara has been awarded the project and will be completing the work.
For comments, questions or more information on the project, please contact any of the following project team members:
Imtiaz Ahmad, P. Eng.

Tom Cavanagh

Kerry Howe, P.Eng.

Design & Construction Engineer

Project Manager

Alfidome Construction

Sr. Project Manager

Kerry T. Howe Engineering

City of St. Catharines

Niagara

Limited

50 Church St.

P.O. Box 3012

St. Catharines, ON L2R 7C2

Tel: 905-371-1701

98 Church St.,

P.O. Box 460

St. Catharines, ON L2R 6V9

Tel.: (905) 688-5601 ext. 1668

905-688-6550 ext. 235

Email: iahmad@stcatharines.ca
The City of St. Catharines recognizes that construction is an inconvenience to residents and business owners. Every effort will be made to minimize any inconvenience to local residents and to carry out the work with as few interruptions to services as possible.