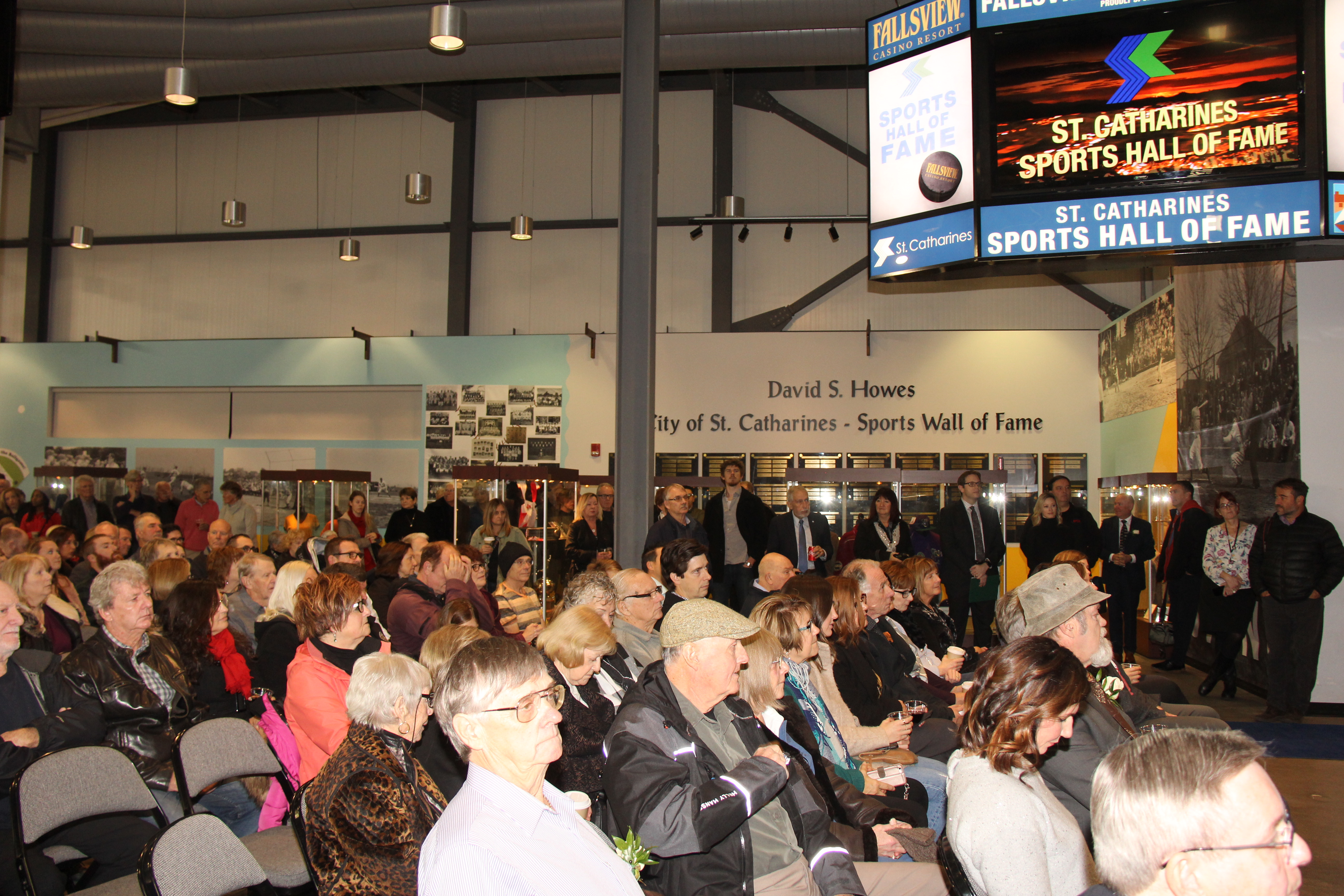 Five new champions of sport have gotten the call to the hall – the St. Catharines Sports Hall of Fame.
For the first time since 2019, the Sports Hall of Fame will welcome a new class of inductees at a public ceremony to take place Thursday, Nov. 24, at the Meridian Centre. This year's hall of fame class includes athletes and builders who have significant achievements in sport, either in competition, or through other distinguished contributions, including athletes Barb Armbrust (rowing), David Cullen (hockey), and Daryl MacDonald (rowing), posthumously, as well as Doug Geddie (curling) and Donald F. Thom (rowing), posthumously, in the building category.
The induction ceremony – the first since the start of the COVID-19 pandemic – will take place at 5:30 p.m. at the St. Catharines Sports Hall of Fame, located on the concourse level of the Meridian Centre, 1 David S. Howes Way. The event is open to the public, admission is free and seating is available on a first come, first served basis, with doors opening at 5 p.m. A reception will follow the ceremony.
"We're excited to welcome the community together again in person to recognize athletes and builders who have had a significant impact on sport locally, provincially, nationally and on a world stage," said Peter Partridge Jr., Hall of Fame chair. "This year's inductees have all helped put St. Catharines on the map in some way through their accomplishments in sport and we're proud to recognize those achievements permanently in the St. Catharines Sports Hall of Fame."
The new inductees will have their names added to the David S. Howes St. Catharines Sports Wall of Fame. They will also receive a commemorative trophy and plaque. This year's class brings the total of inductees in the St. Catharines Sports Hall of Fame to more than 180.
Founded in 1990, the hall of fame recognizes the accomplishments of athletes and builders who have significantly contributed to the development of sport in St. Catharines, and went on to success at provincial, national and/or international levels.
To be eligible for the hall of fame, candidates must have been born or raised in St. Catharines or lived in the city during their sporting career.
"This year's Sports Hall of Fame class exemplifies what it means to work hard, and never give up, and now their legacies live on and will inspire future generations," said Mayor Mat Siscoe. "Congratulations to the inductees for not only shining a spotlight on our community through their efforts, but also using sport as a way to bring our community together as a uniting force."
The St. Catharines Sports Hall of Fame is available for viewing during public events at the Meridian Centre. In addition to the wall of fame, the hall of fame features an exhibition space showcasing a selection of sports artifacts and memorabilia. The current exhibit highlights lacrosse in Ontario and was developed in partnership with the Ontario Lacrosse Hall of Fame.
2022 St. Catharines Sports Hall of Fame inductees
Barbara Armbrust - Athlete, Rowing
Barbara Armbrust has a long list of accomplishments on the water, highlighted by winning a silver medal in the Women's Coxed Four at the 1984 Olympic Games in Los Angeles, followed by a bronze in the same event at the 1985 World Rowing Championships, held in Hazewinkel, Belgium.
Barbara's rowing career started with Sir Winston Churchill Secondary School in St. Catharines, from 1979 to 1982, where she earned three gold, two silver and one broze at Canadian Secondary Schools Rowing Association Regattas.
Barbara's skill earned her a spot with the Canadian national program from 1980 to 1988, starting with representing the nation at Junior World Championships in 1980, in Belgium, and 1981, in Bulgaria. In addition to medalling at the Olympics and Worlds, she represented Canada at the Lucerne International Regatta in 1983, where she earned silver in both the Women's Coxed Four and Eight, the Worlds in Germany 1983, and the Worlds in England in 1986.
In 1987 Barbara was also recognized with the University of Victoria President's Cup, awarded annually to the outstanding student-athlete in fourth or fifth year who best combines scholastic achievement and athletic ability.
David Cullen - Athlete, Hockey
Born and raised in St. Catharines, David Cullen grew up in a hockey family. He began his love of hockey playing house league as a child which led to years playing AAA hockey in St. Catharines and then with the Thorold Junior B Blackhawks. He attended University of Maine on a full scholarship, playing for their Men's Division 1 Hockey Team and in his senior year was captain of the NCAA National Championship Team, an NCAA First Team All American, and was named to the Hockey East First All Star Team and the Championship All-Tournament Team. It was after winning this championship that he signed his first NHL contract with the Phoenix Coyotes.
From 1999-2002, David played for both the Coyotes and their AHL affiliate, the Springfield Falcons, where he was assistant captain in 2002. Early in 2002 he was acquired by the Minnesota Wild of the NHL and played with Minnesota and their AHL affiliate, the Houston Aeros. In 2003 he was on the Aeros team that won the AHL's Calder Cup championship.
In 2003 David signed with the Buffalo Sabres organization, where he spent the next three years playing in the AHL for the Rochester Americans and served as assistant captain for Rochester in 2005-2006.
David then spent one year in Dusseldorf Germany playing in the Elite German league, one half season playing in the Elite Swedish league for Farjestad, FBK, one half season playing with the Syracuse Crunch (the affiliate for the NHL's Columbus Blue Jackets), and finally 2 years in the Austrian Elite League playing for the Graz 99er's.
After retiring from play, David continued his involvement in hockey and the community. David is a teacher with the Niagara Catholic District School Board and owns and operates David Cullen Hockey, focusing on skill development for players of all ages.
Douglas Geddie - Builder, Curling
A local business owner with ties to numerous community organizations, and an avid curling player, organizer and instructor, Douglas Geddie has been an ambassador for St. Catharines in the world of curling.
Douglas, who has been named St. Catharines Sportsperson of the Year twice, has been instrumental in helping the City land several major curling events through his leadership roles on the host committees and bids. It started with the 1995 provincial junior championships, before welcoming some of Canada's best up-and-coming curlers to the community for the National Junior Curling Championships in 2001 and 2007.
Following the construction of Meridian Centre, Douglas helped St. Catharines land the 2017 Scotties Tournament of Hearts, the national women's curling championships. The event not only brought elite athletes to the City, but also attracted about 60,000 fans to watch the action, along with coast-to-coast TV coverage.
Douglas has continued to play a role in other bids for the City, including attempts to host the Brier Men's National Curling Championship in 2020 and the Women's Worlds in 2024. He is currently preparing a bid to host a 2024 Mixed Doubles Cashspiel in St. Catharines.
Daryl MacDonald - Athlete, Rowing
Daryl MacDonald was born in St. Catharines on November 20, 1934. He was raised and lived in the Garden City for much of his life, until he was transferred by General Motors to Oshawa in January 1973. He lived in Oshawa the rest of his life where Daryl and his wife, Lois raised their two children, Darren and Mary-Ellen.
Daryl attended Merritton High School and graduated in 1953. While in high school he excelled in many sports including track and field (running), basketball, lacrosse, floor hockey, swimming and rugby. Darryl started rowing in 1953 and continued to compete and win at the highest levels until 1968.
Daryl competed internationally for Canada four times, including the 1968 Olympics in Mexico City; won 13 Royal Canadian Henley gold medals; three U.S. National gold medals; two American Henley gold medals; and 5 International Trial gold medals, as well as countless victories in both Singles, Fours and Eights on the local level throughout Ontario and in the United States.
Daryl continued to make a major contribution to rowing after his racing days were over. He was a member of the Canadian Association of Amateur Oarsman Technical Committee and the driving force behind the changes in selection and training methods of oarsmen in order to make them more competitive on an international level. His plan included inclusion of sports medicine, psychological training as well as improved equipment to test athletes' abilities.
Daryl had many mentors in his life, especially in sport, and he was also a mentor to others.
Donald F. Thom - Builder, Rowing
Don Thom had been a coxie of the St. Catharines Rowing Club's 1929 Junior Eight which won at the Royal Canadian Henley Regatta that year.
He became president of the St. Catharines Rowing Club in 1945 and was the person most responsible for the rejuvenation of the club after the Depression and the Second World War. However, he was quick to acknowledge that he did not accomplish this alone, describing his directors as being "composed of men who knew rowing, men who knew business, and men who knew both".
Don was a strong booster of the St. Catharines Rowing Club and believed supporting great athletes with top-of-the-line equipment was an important part of building successful rowing crews and successful clubs. He was also successful in developing a women's rowing program in 1947 which continued for three years before being disbanded due to lack of competition.
Don went on to hold executive positions on the Henley Aquatics Association from 1950 to 1971, and regularly dealt with the Canadian Association of Amateur Oarsmen in the promotion and development of the Henley rowing course, as well as the St. Catharines Rowing Club. He continued to be a strong supporter of rowing in St. Catharines until his death, and his legacy lives on at the Henley each year when the Donald F. Thom Memorial Trophy is awarded to the winner of the Men's Eight Dash.
For a list of previous inductees, visit our Sports Hall of Fame page.