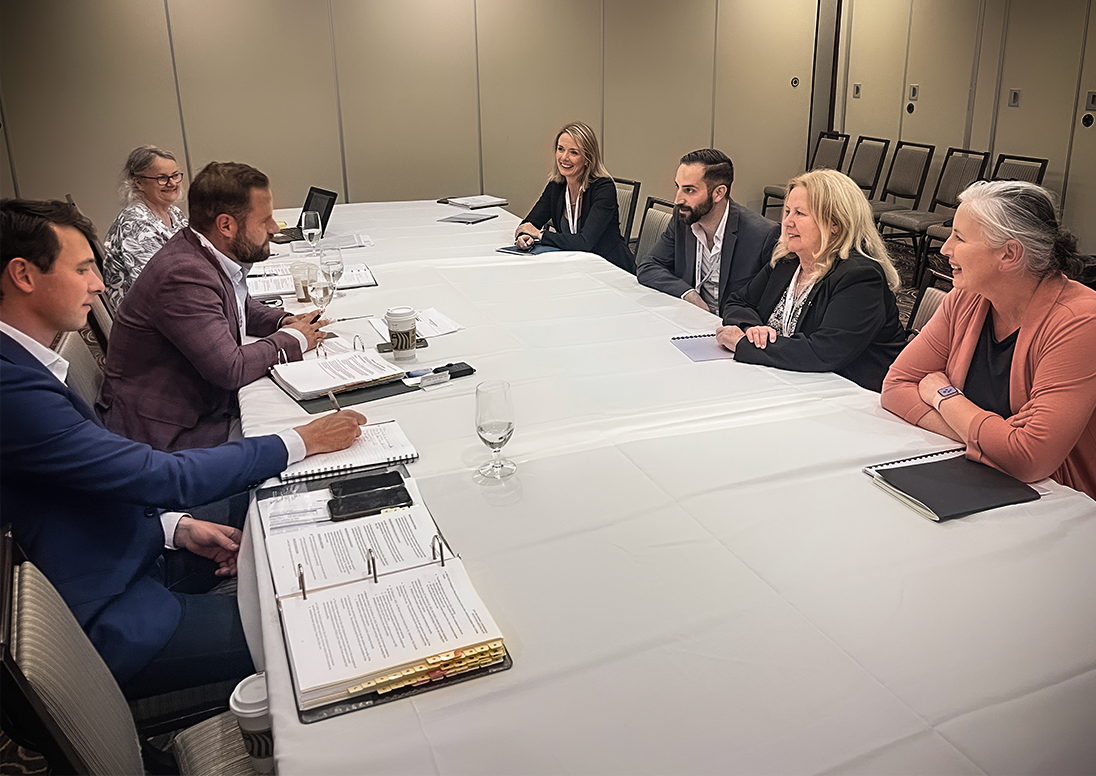 The City of St. Catharines delegation at the Association of Municipalities of Ontario (AMO) conference has wrapped up a series of meetings with provincial ministers and officials to help move the City's strategic priorities forward.
The AMO conference was held in person for the first time since 2019 in Ottawa, from August 14 to 17. The Team STC delegation included City Councillors Dawn Dodge, Lori Littleton, Robin McPherson, Bill Phillips, Karrie Porter, Kevin Townsend and Deputy CAO Erin O'Hoski. Team STC had seven meetings with ministers and officials to discuss the City's priorities and challenges including:
Associate Minister of Mental Health and Addictions Michael Tibollo, requesting the province declare the opioid epidemic an emergency and create a task force using an all-levels-of-government approach to guide the development of a provincial opioid response plan; and requesting a long-term financial commitment, from all levels of government, to create more affordable and supportive housing for people in need, including individuals with substance use and mental health issues. Niagara Region's Community Services Commissioner Adrienne Jugley participated with Team STC.
Parliamentary Assistants to the Minister of Economic Development, Job Creation and Trade Andrew Dowie and Effie J. Triantafilopoulos, requesting continued, targeted support for industries hardest hit by the pandemic, such as small businesses, tourism and cultural organizations; and investments in local business innovation and sector competitiveness through agencies such as the St. Catharines Enterprise Centre and Innovate Niagara.
Parliamentary Assistant to the Minister of Finance Stephen Crawford, requesting a review of the municipal-provincial funding model, including allowing municipalities to explore new revenue tools; continuation of Safe Restart Funding to assist in recouping lost revenues due to provincial restrictions; and to discuss MPAC reassessment concerns and provide recommendations from City Council and staff to consider for the next reassessment cycle to ensure it rolls out in an equitable and fair fashion that causes no undue harm to property owners.
Minister of Transportation Caroline Mulroney and Deputy Minister Douglas Jones, for an update on the progress of the Garden City Skyway twinning; funding to support municipalities as they transition bus fleets to zero-emission vehicles; and consideration of alternative commuter services across Lake Ontario to be included in the upcoming Ontario Marine Strategy consultations.
Minister of Environment, Conservation and Parks David Piccini about investments that support a fair and inclusive economic recovery and those that mitigate climate change and financial supports for municipalities to explore alternative energy and green building standards for City facilities.
Parliamentary Assistant to the Minister of Labour, Immigration, Training and Skills Development David Smith, requesting the province make investments in workforce development to align with the new and emerging industries and demographics post-pandemic.
Minister of Seniors and Accessibility Raymond Cho, and parliamentary assistant Daisy Wai, regarding accessibility requirements for municipal communications, and support for municipalities in their efforts to become more inclusive by way of investments for software and staff training.
The City also joined a delegation with Niagara Region, Town of Lincoln and Town of Niagara-on-the-Lake, asking Minister of Agriculture, Food and Rural Affairs Lisa Thompson to consider investments into an irrigation system in Niagara to support the farm community, and City staff also met with officials from Hydro One.
Councillor Dodge also participated in meetings as a director on AMO's Large Urban Caucus. She was acclaimed to the caucus for the 2022-2024 term, returning to a role she has held since 2019.
"Thank you to our provincial leaders for listening to the issues that matter to the City of St. Catharines. From support for our local business community to new revenue tools, climate change, transportation, housing, mental health and addiction, this year's delegation spoke clearly and passionately about our community needs," said Deputy CAO Erin O'Hoski. "We are grateful to AMO for supporting these important conversations."
AMO is a non-profit organization representing Ontario's 444 municipal governments. The annual AMO conference is an opportunity for municipal officials to work together to address common challenges, to learn through speakers, sessions and workshops, and network with municipal leaders from across the province.